Luxury Mansion
A home away from home
Villa Magtafa – Domain Akhdar – Marrakech
The perfect private countryside mansion to elevate
your holidays to the next level.
Just 25 minute drive away from the famous Jemaa El-Fna square and its colourful souk, Villa Magtafa is the perfect place for peaceful holidays. We have paid meticulous attention to interior design and finding the perfect furniture to showcase the best of Moroccan handicraft. We have added modern touches while still respecting the original design and architecture by acclaimed architect, Charles Boccara. Every room has been carefully thought through to create harmonious and serene spaces.
Villa Magtafa is brought to you for rental on an exclusive 'Hotel-Villa' basis where you will enjoy the entire property at your leisure. This stunning mansion is part of a small collection of luxurious villas, the Domaine de l'Akhdar. It is a managed, gated and secure complex of 20,000m2. 'Andalusian Alhambra-style' gardens have been created between the private villas and each house can freely enjoy the use of the pool house, a large swimming pool, a tennis court, a SPA, a soccer field, a french "pétanque" area and a basket ball court.
An immersion into a luxurious moroccan lifestyle.
Villa Magtafa is immersed in mature gardens, which feature bougainvilliers, fragrant roses and palm trees. Built within a 2.4m high privacy wall perimeter, we have the largest garden of the domaine de l'Akhdar featuring a 14m private swimming pool (heating as an additional option) complete with covered 'bathing kiosks'. Available to rent throughout the year, it also features discreet staff and a personal cook (on request)..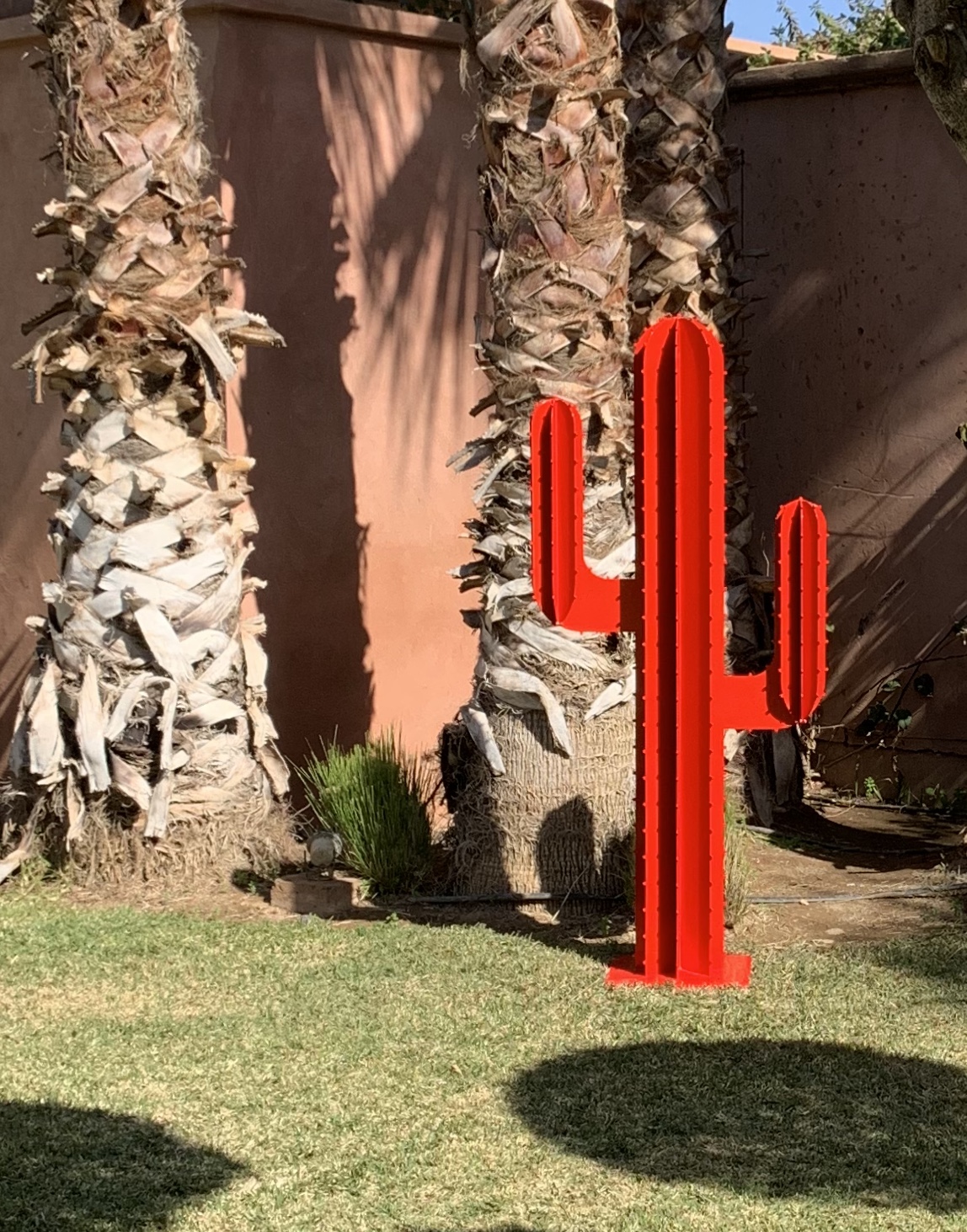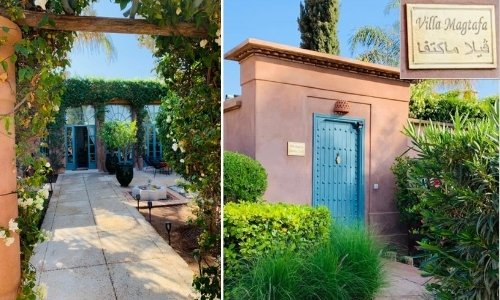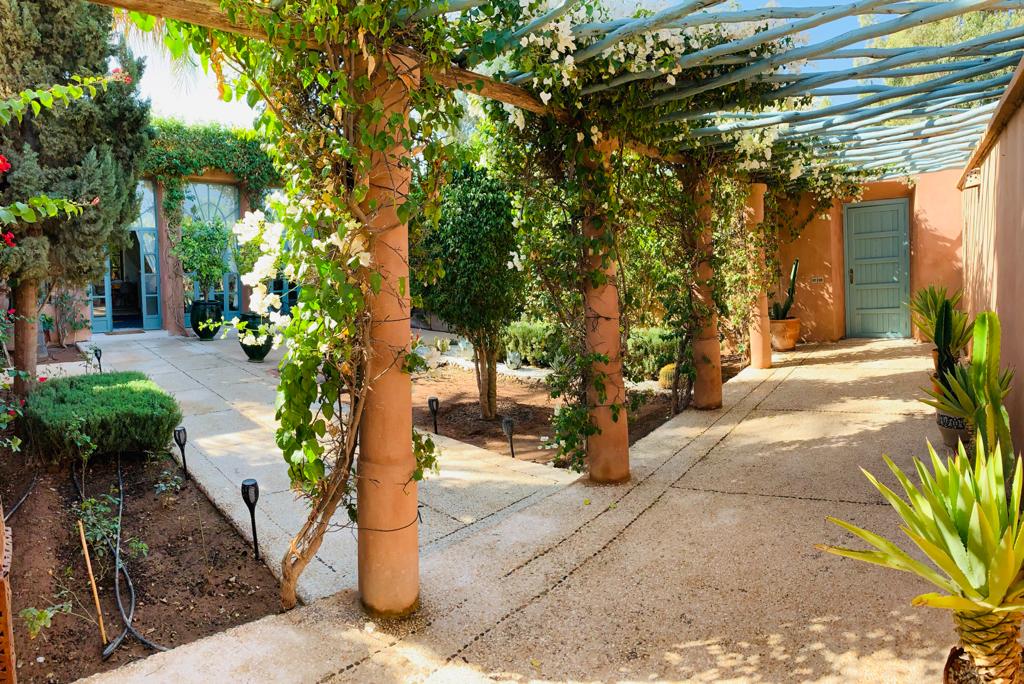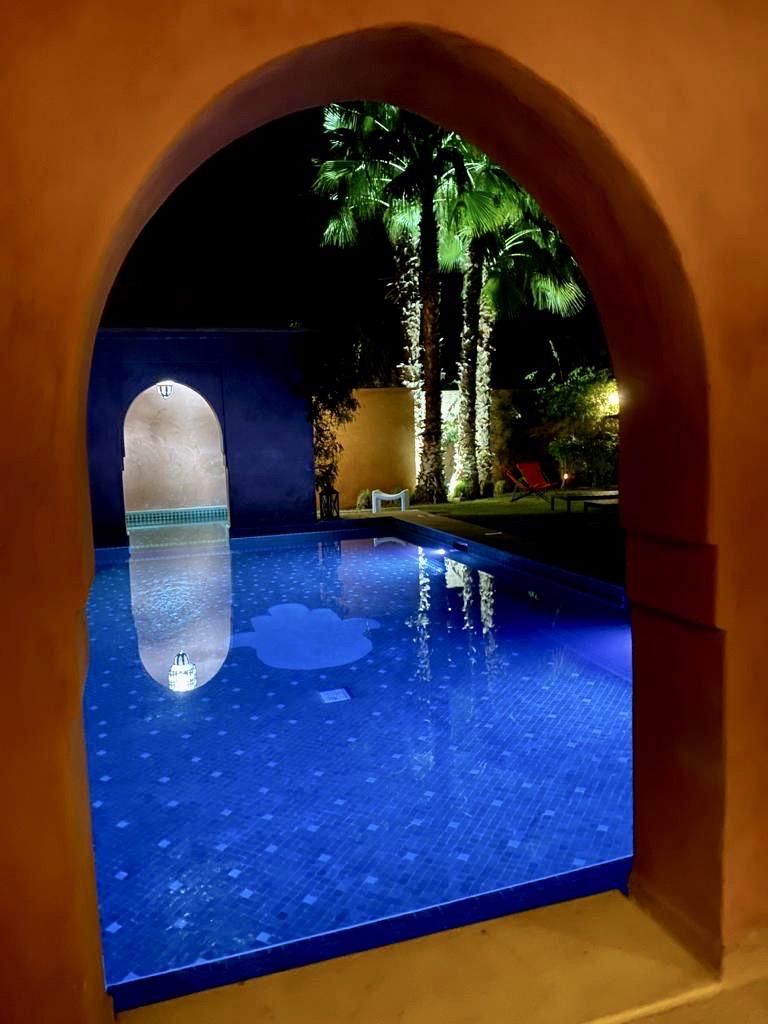 Beautifully designed bedrooms mixing Moroccan handicraft and contemporary styles.
The villa sleeps eight people in four stylish double bedrooms, each with its own en-suite bathroom. We have carefully created the interior of each room of the Villa Magtafa to perfectly complement Charles Boccara's beautifully designed, Morrocan-inspired architecture.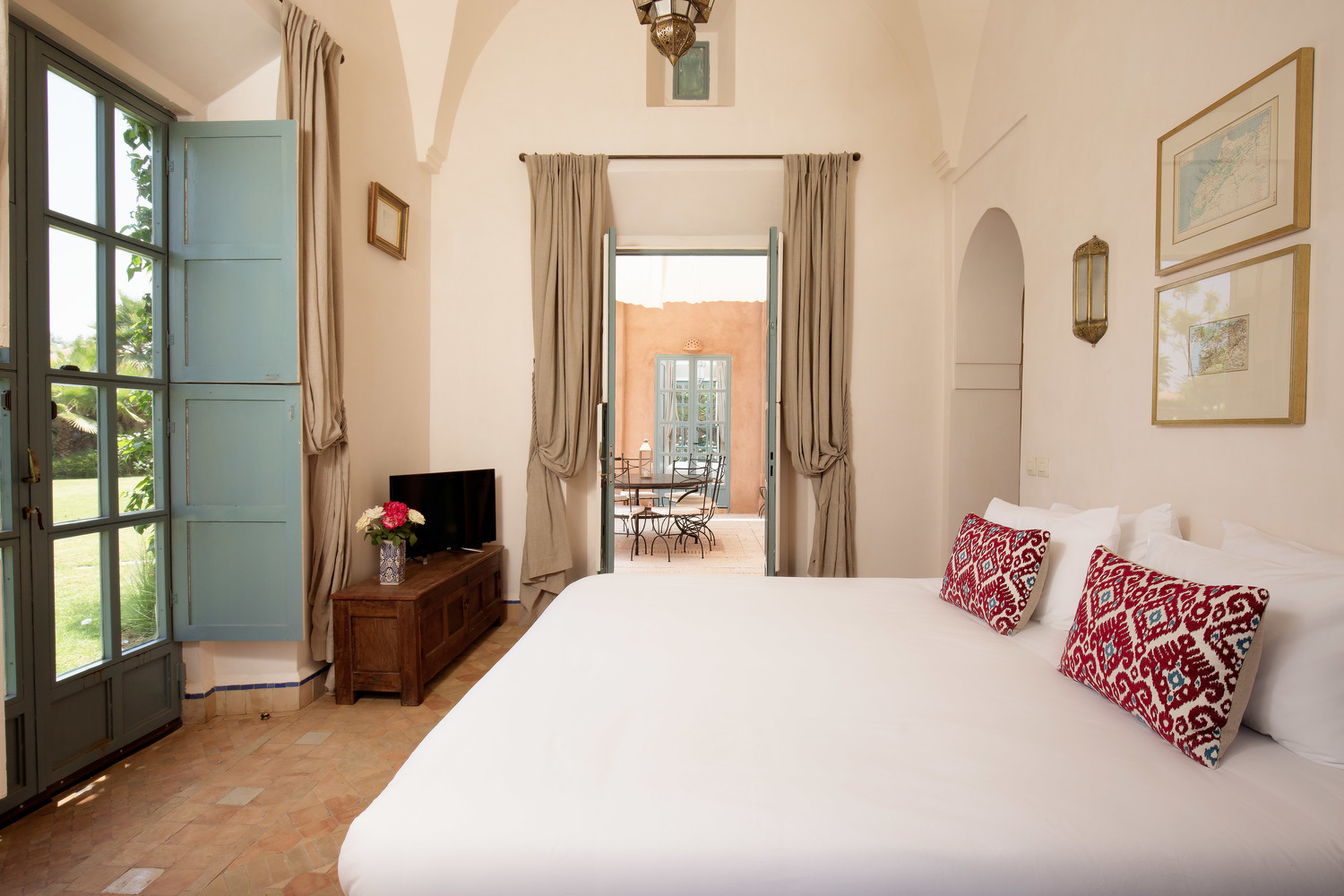 We pride ourselves on ensuring unforgettable holidays.
Villa Magtafa is available on 'Hotel-Villa' basis. We offer a range of services including a housekeeper, a private cook, a full concierge service and several exciting excursions in and around Marrakech. We have been working in the 'Domaine de l'Akhdar' for over 7 years and are experienced in delivering superior customer comfort. With our 'Villa Magtafa Services', we will be on call during your stay to satisfy your every whim.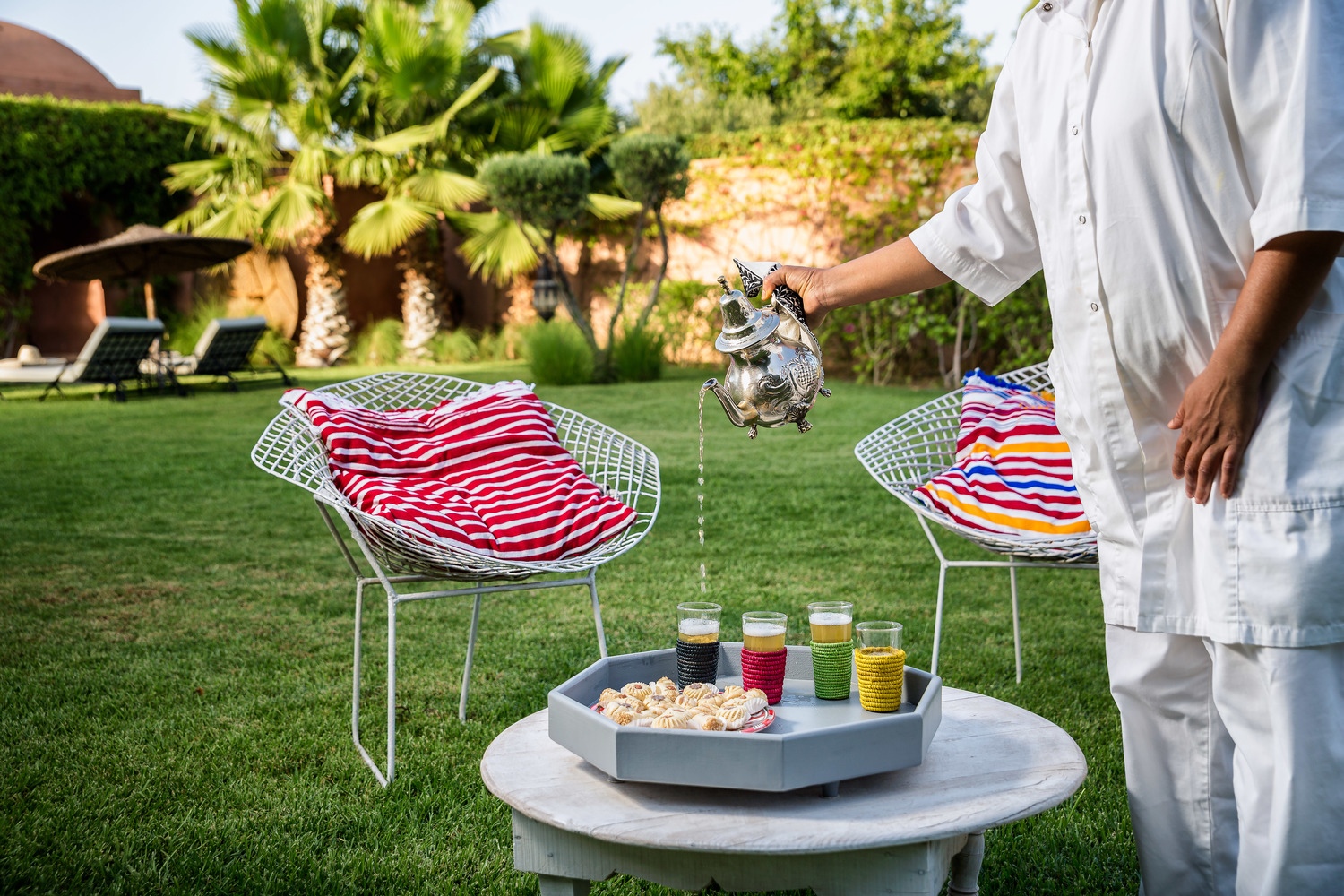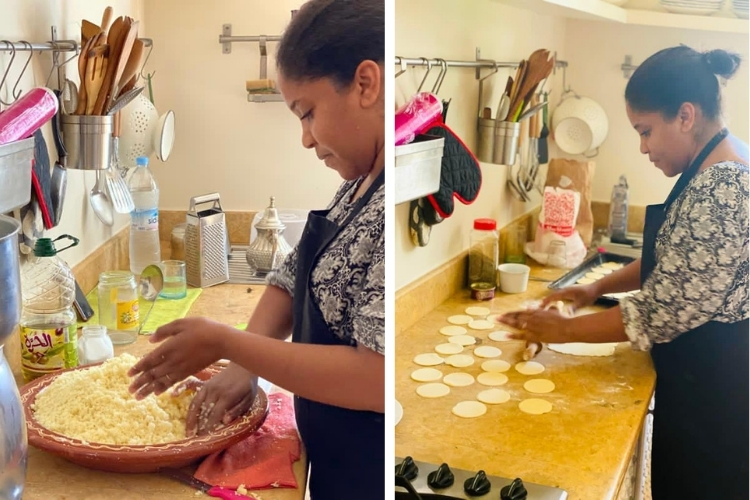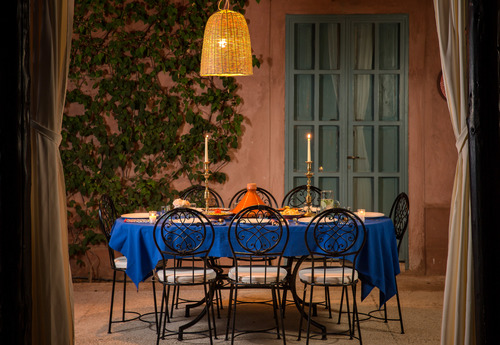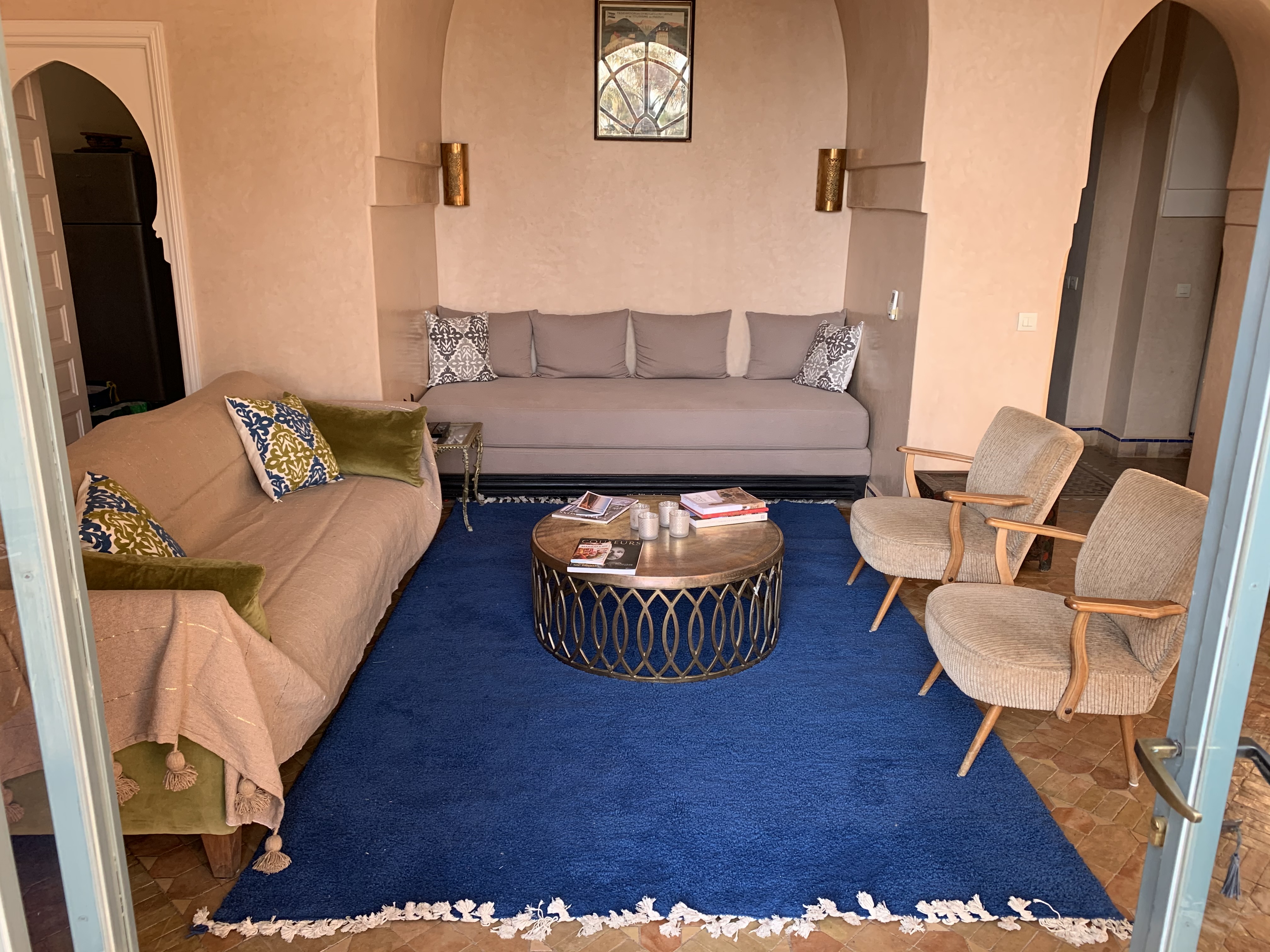 The 'Domaine de l'Akhdar' is just 20 minutes from the bustle of the Marrakech medina and only 10min away from the city's finest Golf courses. The villa can be reached easily by car, taxi or the complimentary on-site mini-bus service. Located 30min by car from the airport, transfers can be provided upon request.
For those wishing to explore the region outside Marrakech, the villa is situated just off Route Ouarzazate (new 4 lanes road) providing direct access to the Ourika Valley, Oukaimeden ski resort and the Gorges at Ouirgane. A two hour drive over the Atlas Mountains will take you to the beautiful city of Ouarzazate (and its numerous 'Kasbah') and the striking landscape of the Zagora desert.
We love sharing pictures from the beautiful colours of the red city, our house and a few places where we like to go. Our account is updated daily. If you want to find out about where to go shopping, for dinner or places to visit in Marrakech, it's the account to follow and share with friends.